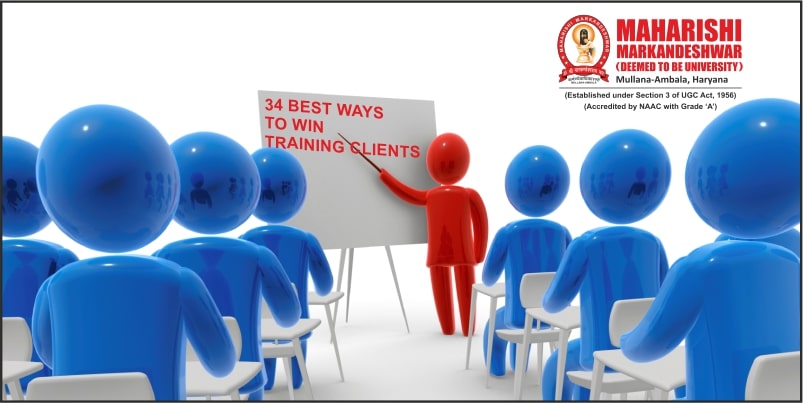 In today's exchanging learning world, winning an everlasting training customer is very difficult because of the change in every organization's strategic training needs. Training vendors have to work more effectively and efficiently to win the clients.
Based on my 10+ years of rich working experience in Training and Development sector, I would like to tell 34 best ways and very important points for winning the clients:
1) A pleasant and customer-centric personality of Business Development Manager and his team
2) Understanding the client's training requirements
3) Quick trainer's profile sourcing
4) Identifying local trainer who has feedback 5 out of 5 in that skill. If not then identify the outsider trainer.
5) Best trainer's profile with backup plan
6) On time Trainer evaluation with the help of client
7) Preparing well in advance for Trainer evaluation call
8) Reminder about the trainer evaluation call
9) Sending Trainer evaluation details to client by meeting invite with all the contact details/bridge details
10) Involving Technical consultant (if required) while Trainer evaluation call/meeting, this will help to understand the exact requirements.
11) Continues follow-ups on the Trainer evaluation feedback
12) Never discuss about your current year's targets with customers
13) Providing the best and customized solutions
14) Proposals should follow "K.I.S.S" (Keep It Short & Simple) principle
15) Win-Win negotiations on training cost
16) Taking care of Trainer's travel, stay and food arrangements (you may include the cost in proposal)
17) Identifying selected trainer's nearest availability dates
18) Discussion with client's Technical team on S/W and H/W setup requirements
19) Signing Non-Disclosure Agreement (NDA)
20) Pre-& post assessments
21) Excellent service on trainer/venue arrangements
22) Collecting feedback about trainer/venue from Client side
23) Sending final invoice after completion of training
24) Sending trainer's feedback about the trainees
25) Asking for the Training Effectiveness of training
26) Checking the RIO
27) Use of emails whenever required
28) Do not call clients every time
29) Building very good relationship with Training Executive and Training Manager
30) Calling Training Executive and Training Manager on their birthdays and marriage anniversaries
31) Always encourage vendors.
32) Keep giving feedback about their work on Social Media (Example: Facebook, Twitter and LinkedIn).
33) Always keep healthy and holistic working environment with clients
34) Always be transparent in Business Arrangements.
Author Details
Mr Ganesh V. Kulkarni,
Training Manager,
Maharishi Markandeshwar Deemed To Be University, Mullana