Whether you're aiming to get placed in a multinational company or want to show off your potential in academics, your learning skills can bring a difference. That's why it's essential to learn how to supercharge your learning skills as a whole. Here's your guide for taking the bull by the horns with 5 secret tips that will help you improve your learning. Let's delve in!
You May Also Like: Traditional Learning vs Online Learning: Everything You Need to Know
Prepare Yourself
Some students believe in studying beforehand their class because doing so gives them an idea of what will be taught in the class as well as helps them better understand their lecture. This tip really works. Hence, start training yourself for the lecture to better understand the things and immediately resolve your queries about the topic (if any!).
Keep a Notepad Handy
Taking notes during class can help students in a big way. It is suggested that listen to your lecturers carefully and take notes of all the important points mentioned during class. By jotting down the notes at the time of class, you can get rid from the hassle of reading the whole concept. Moreover, during exams, you can leaf through all the major points in a jiffy and improve your learning.
Clear Your Doubts and Queries
Clearing doubts and queries is one of the best and fastest ways to improve your learning skills. If you are stuck in some doubts regarding any topic, then note them down and ask your peers or faculties to clarify them. It is said that a doubtful mind can't fetch complete knowledge that is being provided instead, turn you confused. Consequently, to make the grade, make sure that all your doubts are cleared and your queries are replied correctly.
Be Attentive
An attentive is mind is what is needed to improve your learning and make the whole process most effective.  If you are caught in some complex task, your attentiveness will improve your efficiency and help you give your best shot even in harder situations.
Follow a Schedule
Simply put your thinking caps on and decide what you want to study and at what time. Preparing and following a schedule is often not given much importance by students. But in reality, this is exactly the best way to make your learning effective. Moreover, it helps you learn time management. For instance, if you're on a clock to finish a task, you seem to strive hard in order to make it in one stroke. Planning a schedule and setting time limits can help you beat the clock and complete your tasks with ease.
Also Read: 5 Reasons Why Reading is Important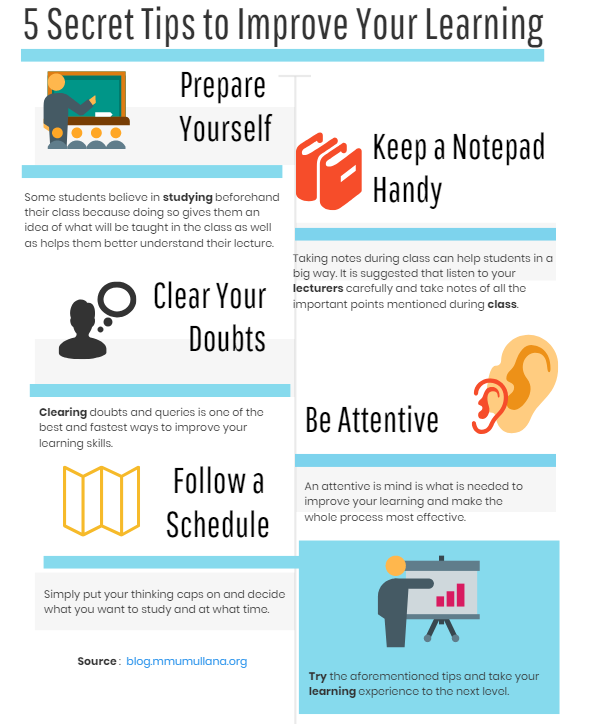 Time to Windup
So there you have it! It's time to improve your learning. The process of learning is the everlasting process. No matter you are 5 or 50, there is always something that can be learned, be it from books or real life situations. You never know when and where the information you learned might come in effect. So go on, try the aforementioned tips and take your learning experience to the next level.