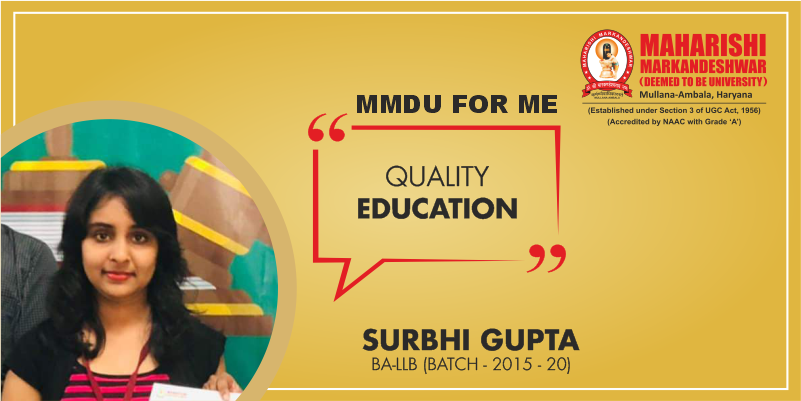 I am Surbhi Gupta, aged 20 years, student of B.A.LLB (4th Year) of Maharishi Markandeshwar (Deemed to be University), Mullana and resident of Kurukshetra, Haryana. The goal of my life is to become a successful person and contribute to the world through social activities as well. I aim to create awareness among people about their Rights & Duties and the laws that govern the nation. My hobbies are Dancing, Playing, Reading, Presentation, Leadership, etc.
I chose Legal Profession as my career because I wanted to pursue something that gives me avenues to grow intellectually, emotionally and financially as well. MMDU is the best University for pursuing Law or any course as it provides quality education and it is one of the best platforms where students can develop personality. Yes, I believe that my expectations have been met by the program at the institution.
The contribution of faculty members of Department of Law is incredible. They help every student from the very core of heart in every field of Law. They also encourage us for achieving new heights in life. The infrastructure and amenities of MMDU, Mullana are world-class. There is completely no ragging and the students feel safe as well as cared after in this place. MMDU gives us healthy and best life in every field from studies to other extracurricular activities.
For me, the best experience has been doing Internship with National Human Rights Commission, New Delhi. This internship gave me the chance to prepare my assignment works, project works, Research works etc. MMDU has supported me in my passion by providing quality education and making me a disciplined and obedient student. This university has given me the goal and focus to achieve the best in my career and life.
During my course of 5 years, everyone can see the transformation. I feel like a confident,focused and determined person. Furthermore,  taking part in the extracurricular activities at the University has sharpened my skills and given me a renewed enthusiasm to prove to the world that I have arrived.